Tucked away in Colorado's front range, our small team is simply obsessed with wellness. The products we share with you are the same products we take ourselves and recommend to our loved ones. You're an extension of our family and we keep that in mind when sourcing, manufacturing, and handing you our latest remedy.
So let's get going on our path to greatness, we're so stoked you're here for the ride.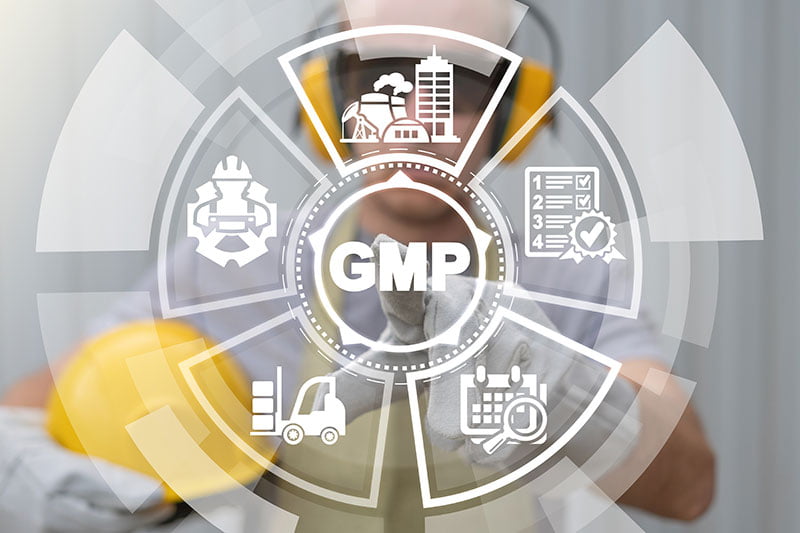 GMP
A Good Manufacturing Practice (GMP) system ensures that manufacturing products, such as food, cosmetics, and pharmaceutical goods and in our case Kratom, are consistently produced and controlled according to set quality standards. Every aspect of the manufacturing process is examined and covered by GMP to guard against any risks that can be catastrophic for our products, such as cross-contamination, adulteration, and mislabeling.
Our Basic GMP Guidelines
GMP guidelines are a set of principles that help manufacturers implement an effective manufacturing process and ensure that quality is built into the organization and the processes involved. GMP guidelines are customarily flexible, with countries having their own legislation to comply with local GMP guidelines and principles. But almost all regulations are derived from the basic concept and guidelines which are:
Quality management
The principle of quality management is to ensure that manufactured products are fit for its intended use, complies with requirements, and does not place consumers at risk due to inadequate safety, quality, or efficacy measures. To achieve this quality objective, quality assurance, good manufacturing practices, quality control, and quality risk management should be comprehensively and correctly implemented.
Quality assurance – The system of quality assurance aims to ensure that our manufactured products are designed and developed in a way that meets the requirements for Good Manufacturing Practice.
Good Manufacturing Practice for Products – As a part of quality assurance, good manufacturing practice is concerned with production and quality control. We aim to mitigate the risks that are inherent in the production process.
Sanitation and hygiene
Sanitation and hygiene is vital in every aspect of our manufacturing process. We cover anything that can cause contamination such as personnel, the premises, equipment, containers, and production materials. All potential sources of contamination are identified and eliminated with a comprehensive sanitation and hygiene program.
Building and facilities/premises
Our facility is situated in an environment that is suitable for our operations and one that is free from risks of contamination of materials and products. Phoria's premises are also designed to minimize errors in operations and are easy to clean and maintain.
Equipment
Our equipment is designed, located, and maintained to function according to its intended use. Additionally, it is cleaned and stored according to procedures. In the event of defect or malfunction, our equipment is removed or labeled as defective.
Raw materials
All materials used for production are stored properly according to their appropriate conditions. There is a proper stock management system implemented to ensure that all incoming materials are correct and of high quality.
Personnel
The success of GMP compliance heavily relies on the people implementing it. For this reason, it is vital that all of our personnel are qualified and trained to do the job. They are aware of the principles of GMP and receive continued training, hygiene instructions, and other tools relevant to their needs. Our respective managers are clear on job descriptions for each worker to avoid misunderstandings and reduce the risk of issues like overlapping responsibilities.
Complaints
Handling complaints is also part of our GMP guidelines, therefore we have a well designed GMP complaint system. If you have a complaint please feel free to let us know through our contact form and a customer representative will address your issue as soon as possible.
Documentation and recordkeeping
Our impeccable documentation and record keeping is an essential part of our quality assurance system and is required in compliance with GMP requirements. Accurate record keeping helps our managers and supervisors keep track of the historical record of manufacturing procedures and corrective measures implemented. Below are general requirements for our documentation:
Documents are designed, prepared, reviewed, and distributed with care.
Documents are clear and legible.
Documents are approved, signed, and dated by appropriate and authorized personnel.
Documents have unambiguous contents such as title, nature, and purpose.
Documents are regularly reviewed and updated.
Documents are not handwritten.
Any corrections made to a document or record are signed or initialed and dated. Reason for the correction is also recorded (where appropriate).
Each action is recorded for traceable activities such as manufacturing and control of products.
Inspections & quality audits
Inspections are regularly performed to monitor if GMP is implemented and complied with. Areas that need more work are documented and provide corrective measures for continuous improvement. Quality audits are done to assess the quality systems implemented by the manufacturing company. GMP audit checklists help us comply with GMP guidelines set by regulatory authorities. By performing site visual walkthroughs and conducting manufacturing evaluations, we identify non-compliant processes and take immediate action to address areas for improvement.
Batch Numbering
Every shipped product includes a batch number for proper traceability. The batches are recorded in a master log located in Phoria's GMP facility and include information such as the name of the product, strain of kratom used or detailed description of the formula and products used in the end-products formulation along with the date it was manufactured by Phoria.
Testing
Every batch of Kratom that is imported by our facility is tested for microbial contaminants. This ensures a continued GMP and provides customers with the assurance that our end-product is a clean and trustworthy product.
Chain of Custody
Records are kept that show exactly what wholesaler or distributor receives our product and what batch numbers they receive.